My first Link Up! Hooray! Anyone who knows me knows my affection for reading. I could read all day long, taking short breaks for life's little essentials and then reading some more. I'll link up as fast as I can read the books (note to self... get library card for Greenville... books don't come cheap these days).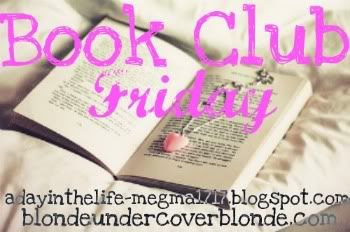 This week I'm sharing:
The 19th Wife by David Ebershoff
Back Cover Synopsis:It is 1875, and An Eliza Young has recently separated from her powerful husband, Brigham Young, prophet and leader of the Mormon Church. Expelled and an outcast , Ann Eliza embarks on a crusade to end polygamy in the United States. A rich account of her family's polygamous history is revealed, including how both she and her mother became plural wives. Yet soon after Ann Eliza's story begins, a second exquisite narrative unfolds - a tale of murder involving a polygamous family in present day Utah. Jordan Scott, a young man who was thrown out of his fundamentalist sect years earlier, must reenter the world that cast him aside in order to discover the truth behind his father's death. And as Ann Eliza's narrative intertwines with that of Jordan's search, readers are pulled deeper into the mysteries of love, family, and faith.
My take: I bought this book while during a three hour layover on my way to Phoenix several weeks ago. I bought it solely because it was thick and on sale. I didn't dislike the book, but I didn't like it either. I really enjoyed the research that went into putting the novel together. I really appreciate the author's dedication to said research and I enjoyed his character Jordan, who could really be any torn and confused twenty-something with a past and a chip on his shoulder. What I didn't like was the painting of Brigham Young as a lascivious character. He had quite the talent for leadership and many, many good works to his credit. I felt the book downplayed his great qualities, but I realize that emphasizing what a truly respected and respectable person he was would not jive with the plot. I have to state that I disagree with polygamy, clearly, but it was a way to heaven for them at the time. Who wouldn't take the heavenly path? (This is a struggle that Ann Eliza's own mother endured.) All in all, I felt the book to be a little slow, but well written and thoughtfully researched, and I didn't find it all that engaging, but I may very well be on my own. Amazon's reviewers really seemed to like it.