Happy Halloween, my lovelies! I am linking up with Casey at
The Wiegands
for Follower's Fest. Thanks for stopping by to hear a little about our favorite time of year.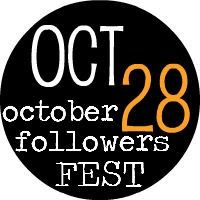 We decorate our little home with ghouls and skulls and enough spiderwebs to catch an unsuspecting Trick-or-Treater. I dream of making our humble abode a haunted house one day - a la Modern Family.
This wreath was "crafted" by yours truly. Okay, I added a glittery owl to a premade feather wreath. I was going to make one myself, but the two boas I would have needed cost more than the one that took no effort. Decision done.
Every year I bust out Edgar, my ghoul. I don't even dust him off as it lends to the old and creepy vibe I'm going for.
I cover most of our furniture in black, gray or white cheesecloth that has been slashed and shredded. Mrs. Havisham would feel quite comfy in our living room. Fred, my Macbeth skull, proudly sits atop our entertainment center, as he is used to being center stage.
We certainly don't neglect the outside of our house, but we certainly have big plans. Our dead tree forest will have a private cemetery next year (buying decor
after
the holiday saves buko bucks).
So if you see this house, be sure to stop by. We have some treats for you! Bwaaa ha ha ha ha!
We always carve pumpkins just before Halloween night - anyone who lives in a hot climate has probably experienced a pumpkin melting and or disintegrating. FYI, they leave a stain on concrete if not cleaned up quickly... and they stink, or so I have heard. Greenville, Sc is a taaaaaad cooler than the desrts of Arizona. We threw caution to the wind and carved those gourds a full five days before All Hallows Eve. Only time will tell.